Health protocols - Covid-19
Due to the current situation related to the action protocols and standards of good management and prevention practices, Rebel Viajes has followed the suggestions issued by the tourism and health authorities to guarantee compliance with the hygiene protocols of all suppliers with those of us who work.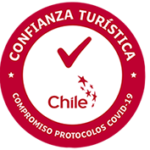 We invite you to consult part of all the information that the authorities have recommended in the following extract that we have prepared, in this way you will be able to find out about the obligations that restaurants, hotels and other service providers must take care of, in addition to those that must be followed by passengers and tourists who make purchases on our website, if you wish to obtain more information in this regard, you can consult all the protocols and good practice guides that the authorities have prepared on the page of
Sernatur
.
Learn more about our operation and actions that allow us to offer a service with total flexibility and security!
Rebel Viajes Commitments | Covid-19
We have an online store that allows us to offer our services in a totally digital way, making it possible to reserve and pay online.
Our passengers receive much of the information and reservation vouchers they need in their email, excluding the need for physical vouchers.
We accompany our passengers before and during their experience, and we have 24-hour service at destination. We offer help if changes are necessary and/or security practices against COVID-19.
Take a look at these videos that explain the protocols that tourist services, accommodation and restaurants are practicing
Covid –19: symptoms, forms of prevention and hygiene practices
Frequently asked questions related to protocols