Operator DMC
multidestination
from Patagonia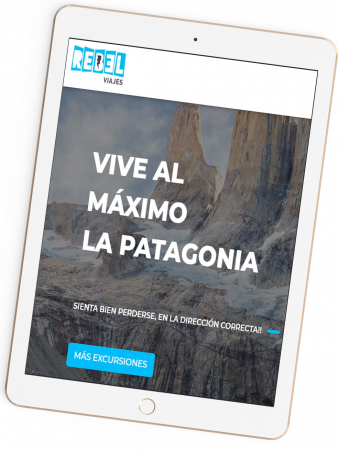 Sell and operate tours in Patagonia!
We are the multi-destination DMC Operator of Patagonia, a professional services company that has extensive local knowledge, experience and resources, specializing in the design and implementation of events, activities, tours, transportation and logistics programs for national and international operators.
We work with local providers in each region, within quality standards to ensure a unique and safe adventure, all these services are managed by our team directly, simply and quickly, through our Rebel Market booking system.
Why work with Rebel Viajes?
Our destinations
Sierra Baguales
Lagoons, meandering rivers, geological and fossil formations. From its hills you can see herds of wild horses, and the typical fauna and flora of Patagonia.
Our destinations
Torres del Paine
Discover the varied trekkings through the Patagonian mountain range. Some of the most iconic sites are the 3 granite towers and the horn-shaped peaks called Cuernos del Paine.
Our destinations
Punta Arenas
A city with more than 500 years of history, marine fauna of penguins and whales, and the gateway to Antarctica.
Our destinations
Ushuaia
Argentine capital of Tierra del Fuego, a place recognized for the uniqueness of its southern landscapes, its fauna and sea.
Our destinations
El Calafate
Get to know the Glaciers National Park, which is home to the imposing Perito Moreno Glacier, and enjoy this ice giant.

Seat in tours
It offers a wide variety of programs with guaranteed departures.

Private groups
Offer personalized services and get discounts for groups.

Individual passengers
Ideal for solo travelers with flexible and adaptable dates.
We invite tour operators and tourism professionals to participate in this network of contacts: companies, travel agencies, national operators and international operators.
You must complete the form that is on the side with your personal data and the data of your company, company name, once we receive your request we will contact you to formalize the conditions.